Presentation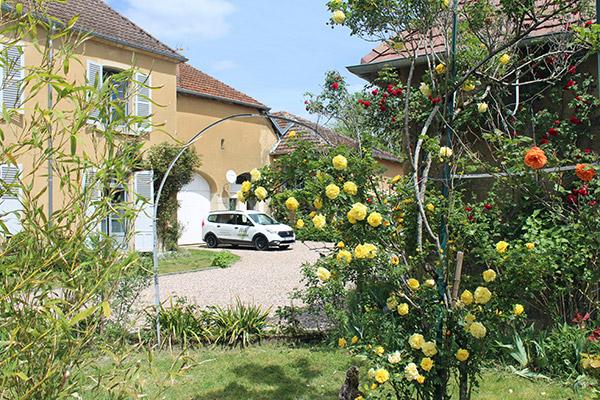 Our Guest House "Angèle & Auguste" stands at Vauconcourt-Nervezain, West of the Haute-Saône Department, Burgundy, France. We are 48 minutes from the Besançon Les Auxons TGV station, respectively less than 70 km from the various airports of Dole, Dijon or Langres, 30 minutes from the town of Vesoul, 15 minutes from Port/Saône.
The house is ideally located to visit local architecture treasures, discover the most preserved countryside and enjoy typical food, including local wines from Champlitte or Charcenne.
We keep saying that our Guest House is a perfect base between the countryside, the Saône River, as well as architectural and cultural points of interest.
The 3/4 of an acre property holds our living long-house, plus two more recent semi-detached buildings for guests, and a double garden.
The house was first built in 1800. It was formerly a rest house for hunters at the time of Napoleon. The same period long-house and stables shelter the technical rooms. It stands alongside the Gourgeonne River, one of the 6 rivers that run down the valley.
Two more commercial buildings were added in the early 1900's, when the army left. Those two last buildings will be used as the Guest House.
The top grade bedrooms have a country-side style decoration, all different, with some hints of vintage and garage sale items.
As for the ½ acre garden, it is separated in two parts by a stone wall. On the first part, you will find the heated swimming pool and relaxing accommodations; our private garden and a well hidden poultry house. The second part of the garden offers a big deal of privacy and quietness; it allows a deeper and more intimate rest.
We inform you that the presence of pets is not allowed in our house.
* The use of alcohol is dangerous for your health and should be moderate.